Fox 6 News Story
This story is from 2013, but it helps tell "our story".  Click below to visit Fox 6 and watch the video.
---
Memorial Go-Kart Inc.

 
Memorial Go-Kart Inc. (MGK) is a 501(c) 3 non-profit, charitable organization. It was established in June 2008 after the tragic loss of 13 year old Parker Klumb to provide youth in the Southeastern Wisconsin area with a positive and educational activity through go-kart racing at Slinger Super Speedway. It was initiated behind the leadership of Kathy Fies. Kathy brought together community members who volunteered to assist and support our area youth youth. In addition, MGK offers annual scholarships to youth pursuing a career in a TRADE related industry.
MGK's Vision is to heal and support youth through racing experiences and positive community building experiences.
MGK's Mission is to coordinate fun and safe go-kart racing team events designed to bring community members together to mentor and support youth.
For more information or to become a Memorial Go-Kart Inc. volunteer click HERE!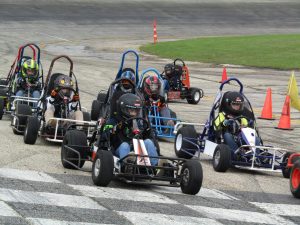 Memorial Go-Kart Inc.
Board President
Justin Poenitsch 
Kart Committee
Justin Poenitsch- Board President
Mike Wiedmeyer – Announcer/ Board Member
Ken Klumb – Safety/Mentor
Bill Ostovich – Flagman
Brad Oelhafen- Board Member/Parts Guy
Lincoln Cain – Scoring
Darryl Cain – Scoring
Events Committee
Jackie Wiedmeyer – Committee Chairperson
Carrie Obst- Board Member
Betsy Klumb – Board Member
Sandy Ostovich- Volunteer Lead

Financial Committee
Justin Poenitsch – Board President
Carol Garcia – Board Co-Secretary/Co-Treasurer
Stacy Cain – Co-Treasurer/Board Member
Jerry Neary- Board Member
Promotional Committee
Justin Poenitsch – Board President
Betsy Klumb -Board Vice-President
Barb Herman – Board Co-Secretary
Scholarship Committee

      Jackie Wiedmeyer – Committee Chairperson
Jerry Neary- Board Member
Betsy Klumb – Board Vice-President
Justin Poenitsch- Board President
Volunteer Committee
Christine Tiedke- Racer Mom/Volunteer
Chelsea Talbot- Volunteer Coordinator
Dola Kirk- 50/50 Lead
Carrie Obst- Board Member